Welcome
to
Angel Flight™ America

...giving hope wings.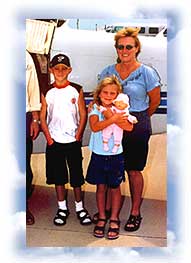 We are a not-for-profit grassroots organization with a volunteer corps of more than 5,000 private pilots—divided into six regions covering the American continent—who fly under the banner of Angel Flight America.

We provide flights of hope and healing by transporting patients and their families in private planes, free of charge, to hospitals for medical treatment. We also provide flights in a national crisis or whenever there is a compelling human need (see story at right).




The generosity of our volunteers provides HELP and HOPE to children and adults in need.


Angel Flight assists in the fight to save lives.


Our volunteer pilots provide no-cost long distance access to medical or compassionate care.


We treat patients with the respect they deserve, show them we care, and give them the time and encouragement they need when necessary.


We have full-time paid mission coordinators who can be reached 24/7.
---
"After the terrorist attacks on September 11, 2001, Angel Flight America pilots were granted special permission to fly more than 100 emergency missions. The dog pictured above is wearing booties similar to the ones Angel Flight transported for the Search and Rescue dogs at Ground Zero."